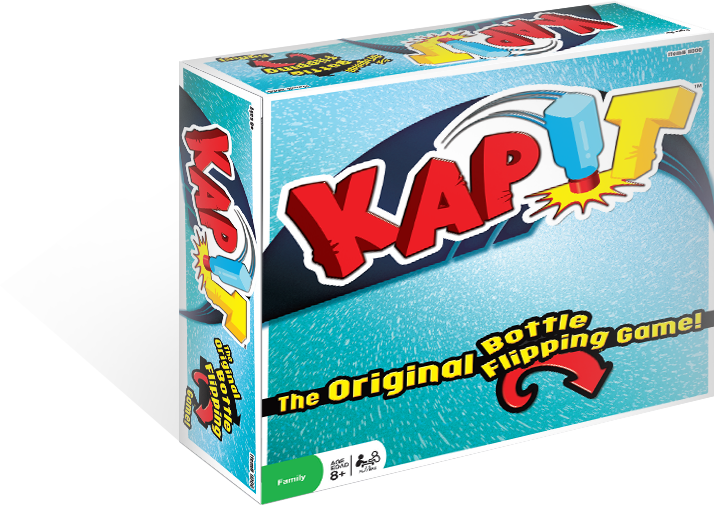 Contents
2-Official KAP IT™ bottles, Playmat & 2-Caps
Object
Score 21 points
Set Up
Fill bottles with water to bottom of label for optimal
performance of the KAP IT™ bottle. Make sure cap is
on securely to prevent leakage!!
How to Play
Starting with the youngest player and moving clockwise, each player gets up to 3 flips per round. To score in the game you must either land the bottle on the base or KAP.  No points are given if the bottle doesn't land upright! If a player lands a bottle on flip 1 or 2, they can choose to keep that point value or forfeit those points and try again. By looking above the bottle, whatever the majority portion of the bottle is in that zone will be the point value. For the red area, 100% of the bottle must be in the center for it to count.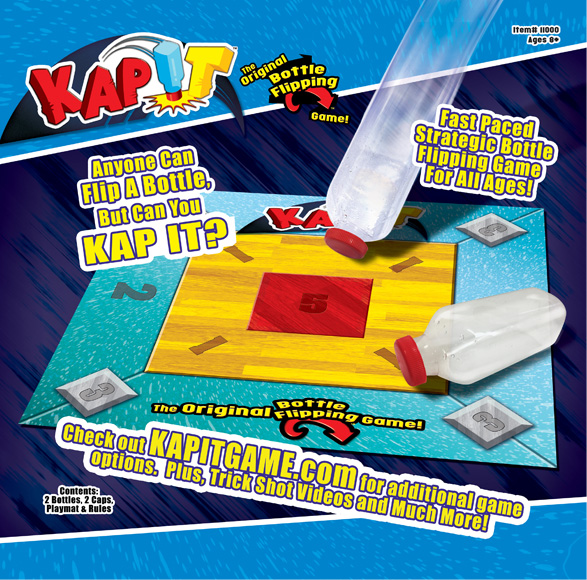 You must land exactly on 21!! If on your turn you go over 21, you don't get those points and your turn continues as normal (No Penalty).
All players get an equal chance to score 21.
If player #1 scores 21, everyone else gets a chance to match
their score. If more than 1 player gets to 21, each player
gets 5 flips and the highest total points wins.
If you KAP IT™, you receive double points for that flip!!
POINT VALUES
RED = 5 points
SILVER = 3 points
BLUE = 2 points
YELLOW = 1 point
After game, you may want to empty bottles.
OTHER GAME VARIATIONS:
HOW MANY LANDED BOTTLES CAN YOU GET IN 90 SECONDS
NUMBER OF POINTS SCORED IN 90 SECONDS ON KAP IT PLAYMAT
PLAY GAME OF "BOTTLE" OR ANY OTHER WORD. GAME IS LIKE THE GAME OF "HORSE" IN BASKETBALL. CHALLENGE YOUR FRIENDS TO LAND BOTTLE ON DIFFERENT SCORING ZONES ON THE BOARD. IF YOU DON'T SUCCESSFULLY COMPLETE THE CHALLENGE, YOU GET A LETTER.
HOW MANY LANDED BOTTLES CAN YOU GET IN A ROW
HOW MANY "KAPPED" BOTTLES IN A ROW
HOW MANY "KAPPED" BOTTLES CAN YOU SCORE IN 90 SECONDS
FASTEST TIME TO LAND A BOTTLE IN EACH SCORING ZONE
FASTEST TIME TO 10 LANDS
FEWEST FLIPS TO 11 POINTS
MOST POINTS IN 10 FLIPS
FEWEST NUMBER OF FLIPS TO LAND ON THE #3
FASTEST TIME TO LAND 3 BOTTLES AND 2 KAPS
SUBMIT YOUR OTHER IDEAS FOR GAME VARIATIONS TO GAMES@KAP-IT.COM